The Cattery Company Care Team
I knew that building an outstanding facility was only part of the equation that would make us a success. I needed an equally outstanding cattery care team. It's so important for our clients to know who is looking after their cat. I know that your cat's experience with us will be the best it could be. The environment, our care philosophy and an incredible care team ensure that happens. We want you to enjoy your break confident in the knowledge they are in exceptional hands. Our cattery care team has always been of the very highest caliber; it's something we have achieved since day one.
What follows is information on our current cattery care team. Some news also about our past crew – so many of you have been asking where they are now! Invariably we lose most of them after four years when they graduate as Doctors of Veterinary Medicine. They've set the standard. We've always been so proud of our care team.
I believe that you should know the qualifications, training and experience of those individuals. In the same spirit I've also decided to give you an insight to the total person. I can assure you that collectively they are gentle, kind and compassionate. Their chemistry with cats and each other is amazing, that passion is combined with an expertise and training only a few possess. Cheers Grant.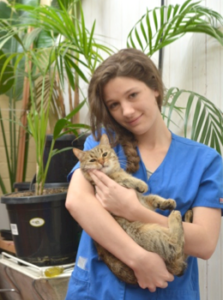 For the past seven years Jess has been a valued member of our care team. Prior to completing her VCE Jess graced us with her presence on weekends and school holidays. Since completing her VCE Jess is now here fulltime while she takes a break from study and is now our manager.
While Jess loves all felines, she believes the most rewarding aspect of caring for them is when a renowned shy cat finally shows you trust. This trust is only formed by spending a lot of time with them, showing them you're OK and that you give amazing scratches! We often find her sitting in with a shy or elderly cat.
Jess is owned by 3 naughty cats and has several turtles from the Emydura species- Macleay & Macquarie River Short Neck Turtles. When you come into The Cattery Company you may see them in one of our many aquariums. One thing turtles and cats have in common is their ability to manipulate and deceive human slaves at dinner time! Like many cats, turtles will eat food all day given the opportunity.
In her spare time Jess loves spending time with her family. She is also very keen on photography. You can see some of her photos within our gallery. Jess knows and loves the cats, and we know her feelings are reciprocated by the beautiful cats we care for.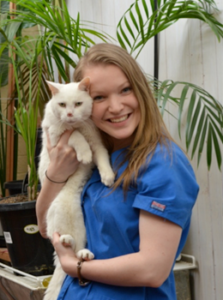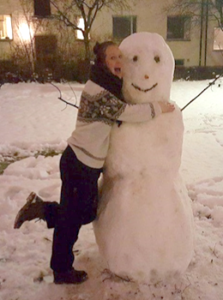 After completing her Bachelor of Animal Health & Disease at the University of Melbourne several years ago, Melissa joined our care team. Melissa has just completed her masters of Animal Science, focusing on behaviour and welfare. During her degree she also interned at Humane Research Australia.
After receiving a scholarship to complete a semester of her degree at a university in Uppsala Sweden- with one of the largest animal focuses in Europe, renowned worldwide for their focus on animal behaviour – Melissa embarked on her great European adventure, studying abroad and travelling across Europe.
Her great love for felines was evident when she volunteered at the local cat shelter and began fostering a young mother and her kitten. The mother cat was shy but sweet and her baby was a crazy, playful kitten. Before leaving Sweden, both of her foster kitties found their forever homes thanks to her time and dedication.
Melissa enjoys travelling, animals, different food cultures and fitness, often arriving to work on her bicycle.
Although Melissa isn't currently owned by any felines, she is owned by a quirky little rabbit fondly known as Bunny. She is a fun, outgoing and caring person who fits right in here.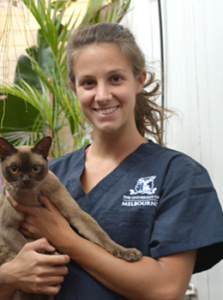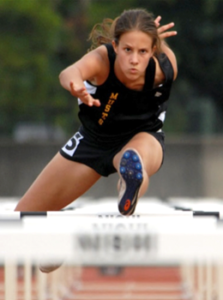 Gwen was born and raised in Tokyo where her family still resides with her big fluffy 11 year old Golden Retriever and forever-hungry cat. Her love for animals started at a young age when she used to exasperate her family by bringing home copious amounts of rescue animals. At one point Gwen had 13 pets – tadpoles, fish, a rabbit, dog, three cats and three roosters, all in the middle of Tokyo! Go figure, Gwen is also totally fluent in Japanese.
Gwen gained her Masters degree in Zoology from University College London before moving to Australia to undertake her Doctor of Veterinary Medicine degree at the University of Melbourne. She is currently mid way through her third year. Gwen loves all animals she has a particular interest in wildlife. Gwen was invited to join the cattery care team in her first year DVM.
The most elite and prestigious research institute in the world is the Smithsonian National Zoo in Washington D.C. They limit placements for final year DVM students to seven worldwide. We do not know who the other six recipients are.
When Gwen joined us we knew that she was an avid athlete, track & field – also playing volleyball for Melbourne University. Little did we realise just how elite. Gwen swapped shifts one weekend to compete in a meet. The next week we asked how it went, she replied "Oh, not bad". A couple of weeks later one of the other students informed us that she had just won the 400 m open Victorian hurdles and as it transpires is still ranked number two in the U.K. Having a break in the off season for athletics Gwen has just been selected on the Victorian Volley Ball Squad.
In her spare time, Gwen enjoys reading, fostering dogs and cats and generally just being outside. She has enjoyed working at the cattery for the past three years where she has fallen in love with many of your cats and always looks forward to having her weekly cuddles with them.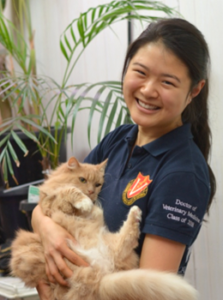 Michelle from Vancouver, Canada is a lover of all creatures. After completing her Bachelor of Science degree with in Animal Biology (Hons) at the University of British Columbia (Canada) in 2015, Michelle decided to continue her pursuit of becoming a veterinarian at the University of Melbourne. She is currently a second year veterinary student, and plans on specializing in small animal medicine. Born in Vancouver, Michelle has lived in various countries across the world, including Taiwan, USA, and now Australia. Michelle is also fluent in Mandarin.
Before joining The Cattery Company, Michelle had 3 years experience working as a Veterinary assistant at the University Veterinary Clinic in Vancouver. She also spent two years volunteering at the Vancouver Animal Emergency Clinic and getting her share of kitten snuggles from the local Vancouver SPCA.
Having fallen in love with the Melbourne coffee scene, Michelle's go-to order at a cafe is always a long-black with a side of chocolate-almond croissants. Her current goal is to hit up every good coffee shop in Melbourne at least once, and is always taking recommendations! Michelle is an avid yogi, runner (competing in half marathons), and a lover of all things chocolate. She also loves to travel, and spends most of her holidays exploring new places around the world.
You will find Michelle spending her weekends at the Cattery Company, she can't wait to meet your beloved cats!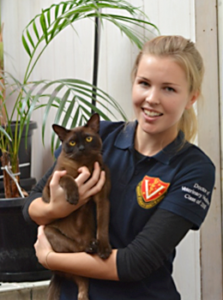 Maddie grew up on a farm in country NSW. Maddie is half way through her Doctor of Veterinary Medicine degree at the University of Melbourne. Maddie's first degree is a Bachelor of Science majoring in Animal Health and Disease.
Maddie frequently visits her hometown where she helps out on the farm with everything from driving harvesters to feeding sheep and cattle. She also loves spending time with the family dogs. We have not met many vet students who possess a heavy vehicle license. Her dream is to pursue a career in Small Animal Medicine, however it'll be hard to keep her away from the country.
Maddie has a keen sense of adventure and loves exploring the world. Her most recent adventure was to Central America. Maddie loves spending her weekends de-stressing at the cattery – giving and receiving plenty of hugs with your cats. This is something she looks forward to every week.
In her spare time Maddie loves roller blading, hula hooping and pole dancing – she thinks it's a great way to stay fit!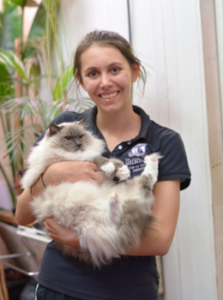 After Completing her Bachelor of Science, Gabi is currently three years into her Doctor of Veterinary Medicine degree at Melbourne University. Gabi has always been passionate about all things furry – wildlife included. Her ultimate goal is to be involved with the care of wildlife.
Gabi grew up in Melbourne with a range of different pets including chickens, fish, rabbits and dogs. Gabi is currently owned by a cheeky 8 year old Border Collie. Gabi has also volunteered at Guide Dogs Victoria. She loves spending time getting to know your cats over the weekends and holidays.
In her spare time Gabi is an avid movie watcher and enjoys the food scene, readily taking the opportunity to try new restaurants. Gabi also loves to travel. On one of her most recent adventures Gabi went to Thailand to assist at an elephant sanctuary.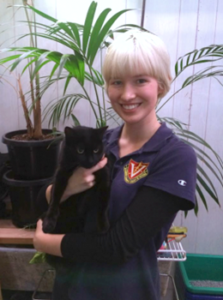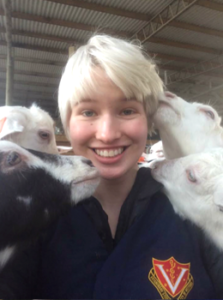 After completing a Bachelor of Advance Biological Sciences at La Trobe University Arielle is currently loving her first year of Melbourne's Doctor of Veterinary Medicine degree.
Becoming a vet has been a dream since 5 years old (before that she was set on being a circus clown) and Arielle has travelled the world always finding a way to involve herself with animals in every situation to ready herself for vet school. The highlight of these experiences was working in remote aboriginal communities helping perform surgeries outdoors in 40oC heat, working on trestle tables de-sexing up to 50 dogs a day with the AMRRIC program.
Her next adventure will hopefully be a trip to South Africa to volunteer with a research team for the opportunity to work with her all-time favourite animal; hyenas.
Arielle's own cat recently passed so she really cherishes the opportunity to spend time with the furry clientele here at The Cattery Company as a break from caring for her rescued greyhounds at home.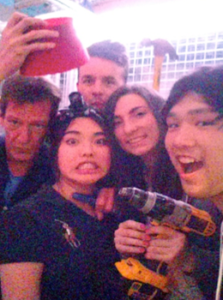 During peak periods and when we have special projects to build we have several vet students on standby including Ryan, Guila, Steph, Alex & Jason. All have extensive hours here on placement, know our routine and your cats.
It's always a bitter-sweet moment when they complete their last shift but mostly it's a cause for celebration. Luckily we stay in contact, so here's some updates.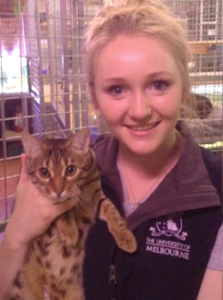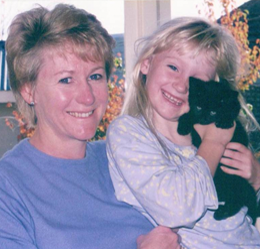 After four years with us finished up Xmas 2015. A multiple Dean's Honours Award recipient during her time at Melbourne University, Kath was offered a surgical internship at South Paws Specialist Surgical Hospital, an extremely highly regarded practice and a much sought-after position. Read more here: http://www.southpaws.com.au/staff.php
Kath was invited to join us after her first placement here. Whilst other students were playing with kittens every time we went to find Kath she was sitting with the oldest and most frail guest, just reassuring that cat. During her time with us Kath also proved an excellent teacher – always sharing her knowledge as she progressed through the DVM program with the other care team members.
Kath was here the week she received her exam results. "All I ever wanted to be was a vet. As a kid, then at school and then at Uni. Now I'm a vet and it feels just great!" I have the gracious permission from both Kath and Dawn to allow me share a very special photo. Photo on the left was taken sometime during in her 3rd year, 2014, with Mika – a very rare cat (and frequent guest). Sadly, last year Kath's childhood cat Dusky succumbed to renal disease. Her mum Dawn (Btw, another Dr. Duncan!) sent her this photo. Kath was seven years old. When you know her, I think it's one of my favourite photos ever. Interestingly we've since noticed the way Kath is holding both cats:)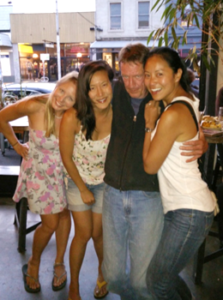 Jina was selected ahead of some fifty first year DVM students to who applied to replace Steph. Already having completed a PhD in Biochemistry in Vancouver Jina proved a dedicated and valuable team member. A fitness fanatic who runs marathons Jina would often start her day at 5am hitting the gym. Jina was so much fun, we'll never forget the Xmas she worked here and decided that she was missing playing music. (Grand piano at home). J's answer? Buy a 6 string banjo and get lessons! Her rehearsal place? Right here! Our guests just loved it, heads turning to the side and curious as I've ever seen cats. Always fun to have around, Jina graduated in 2014 and commenced a residency in emergency medicine at Port Cook. Earlier this year Jina joined the team at CARE , a brilliant 24 hour emergency hospital just around the corner from us. Jina has also commenced a post grad degree in small animal emergency. We've seen quite a bit of Jina lately – not at the vet so much as on her way to the gym in the next street:)
Vivian joined us very shortly after Jina. Always so compassionate. Originally from Boston, first degree: Science – Biogenetics (Hons), with extension degrees from Harvard . Returning to USA after graduating DVM Vivian then completed a residency in Long Island Emergency NY (18 hour shifts, six days a week) before joining a practice near her home town in Massachusetts. Vivian also proved to be the master of the practical joke. Her mischievous side sometimes took weeks to instigate an elaborate, very clever – but never nasty sting. Vivian has also managed to get married and get a pup – an Australian kelpie! Apart from that she has been really slack:) A consummate professional Vivian always displayed poise way beyond her years. To have her on team was an all too short joy. We still miss her every weekend. The lucky practice: http://www.vcahospitals.com/wakefield/our-team/veterinarians/vivian-wang/48654
Jenna was a valued member of the swing shift, graduating at the same time and has returned to Canada.
Melanie was here from the day we opened and stayed around nine years. After being awarded a gold medal for academic excellence from Monash University, Melanie was offered a full scholarship for her masters in performance and arts. Over four universities in Europe! Currently based in Berlin where she is now completing a PhD.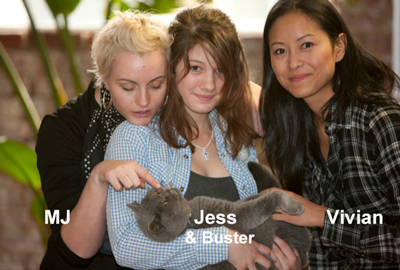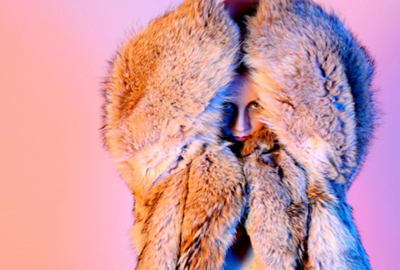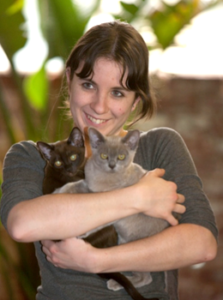 Steph joined us in her first year of vet school. First degree is Animal Science (hons) and she graduated four years later with honours. Steph joined a mixed practice in Canberra, her home town. Several years later Steph returned to Melbourne where she now works at All Creatures on Hoddle. Steph is about to complete a Masters Degree in Small Animal Diagnostics.